The settlement of Dubai town is known from 1799. The sheikh (Arabic: shaykh) of the emirate, then a minor, signed the British-sponsored General Treaty of Peace (1820), but the area was seemingly dependent on Abu Dhabi until 1833. In that year a group of Āl Bū Falāsah clansmen of the Banū Yās confederation, chiefly pearl fishers, left Abu Dhabi in a rivalry dispute and took over Dubai town without resistance. From then on, Dubai became, by local standards, a powerful state. It was frequently at odds with Abu Dhabi's rulers and the Qawāsim (Āl Qāsimī), who controlled the area just north of Dubai, both of whom tried to take control of it, but Dubai's new rulers retained their independence by playing the neighbouring sheikhdoms against each other. Together with the rest of the original Trucial States, the emirate signed with Britain a maritime truce in 1835 and the Perpetual Maritime Truce in 1853. Its foreign relations were placed under British control by the Exclusive Agreement of 1892. When Britain finally left the Persian Gulf in 1971, Dubai was a prominent founding member of the United Arab Emirates.
    Deluxe Burj Khalifa View Room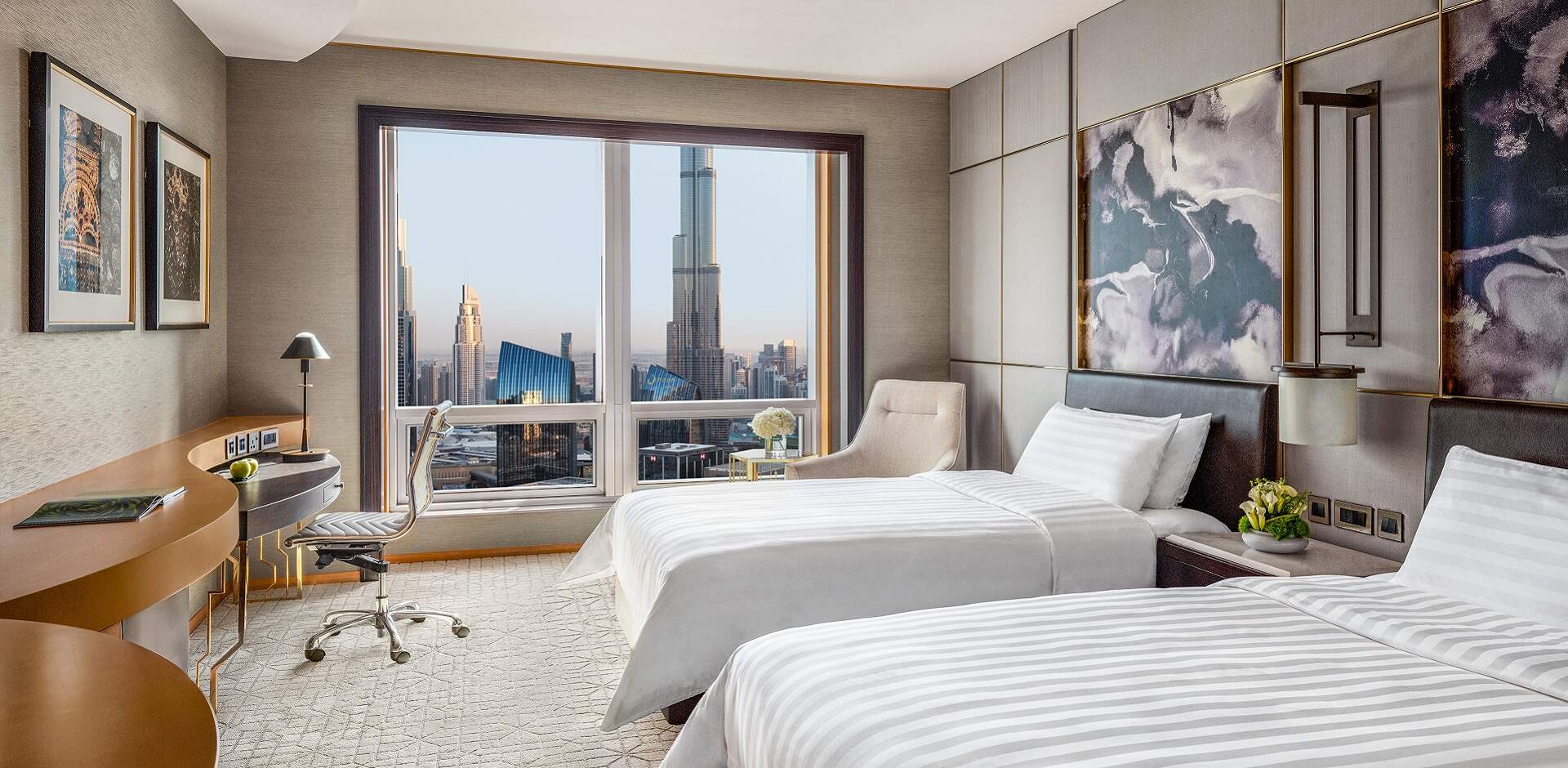 Our Deluxe Burj Khalifa View Rooms offer stylish comfort with iconic landmark views. A calming space filled with shades of soft grey, white and lilac with subtle gold accents, these rooms are the perfect introduction to the wonderful city of Dubai.
Features
45 sqm / 484 sqf of scenic luxury.
Impressive views of Burj Khalifa and downtown Dubai.
Spacious marble-clad bathroom with walk-in rainfall shower and separate deep-soaking bathtub.
Original local artworks that pay homage to the country's heritage.
King rooms can accomodate a maximum of 4 guests with an extra roll-away bed provided upon request, while twin rooms can sleep up to 3 guests.
Amenities
Crispy Mint premium toiletries
Plush bathrobes and slippers
Iron and ironing board
Hairdryer
Flat-screen television with satellite cable and in-house movie channels
High-speed WiFi and broadband Internet access
Full-size executive writing desk
International Direct Dial telephone with dual lines, dataport connection and voicemail
Meditative colouring postcards
Electronic safe
Coffee and tea-making facilities
Gourmet minibar