1. Neal's Yard
Neal's Yard is very photogenic and perfect for those that like lots of colours in their photos. It is almost a secret photography spot in London. To get to Neal's Yard get off at Covent Garden underground station and then it's only a short walk. You should head here early before it gets too busy otherwise you'll struggle to get a quiet moment. Also note that Covent Garden is a great part of London to explore for shopping and restaurants.
Best time for pics: Day
Cost: Free
Location: Neal's Yard, London WC2H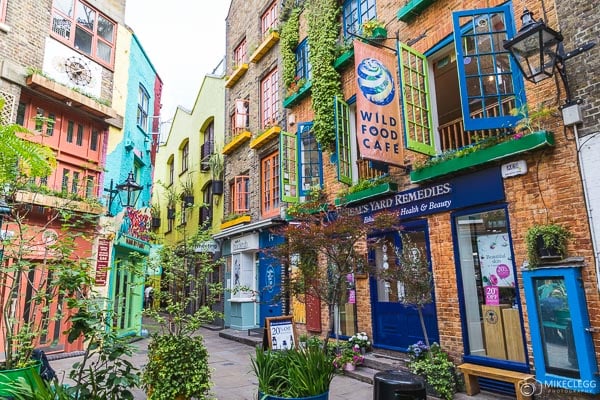 2. View From The Shard
The views from the Shard are definitely my favourite viewpoint in London. This is also for sure one of the best photography spots in London. Options to visit and enjoy the Shard are to go to the viewing platform on the top floor or stay in the amazing Shangri-La hotel. Both will present you with spectacular 360 views of the city. The Shard is also a good spot for sunset and blue hour pics.
Best time for pics: All times
Cost: Ticketed
Location: The View from The Shard, Railway Approach, London SE1 9SG
TIP
ShardView is much better value if you visit as part of the LondonPass. The pass includes access to over 80 attractions and is a great option if you wanted to see lots of paid highlights in London during your visit.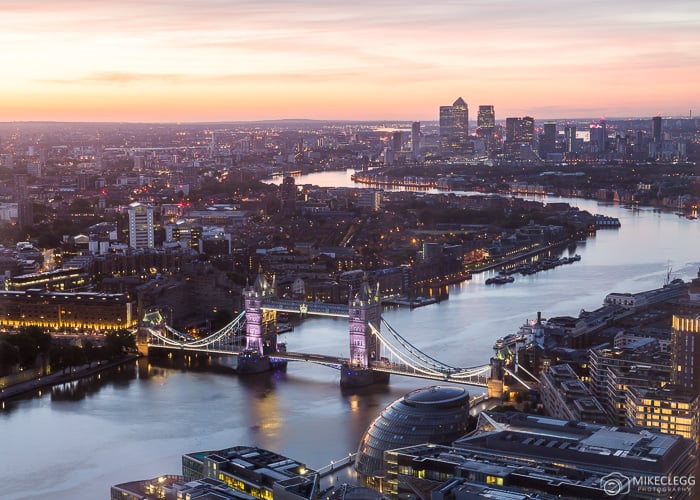 3. St Paul's Cathedral
Below is one of the classic St Paul's Cathedral shots that you may often see on Instagram. Another great place for photography at this location is to take the elevator (which is behind in the image below) to the top where you'll get some high views. Try coming to this location at sunset for much better light.
You can also visit the interior of St Paul's to see more of the cathedral as well as head up to the dome for skyline views of the city.
Best time for pics: Anytime
Cost: Free
Location:: 1 New Change, London EC4M 9AF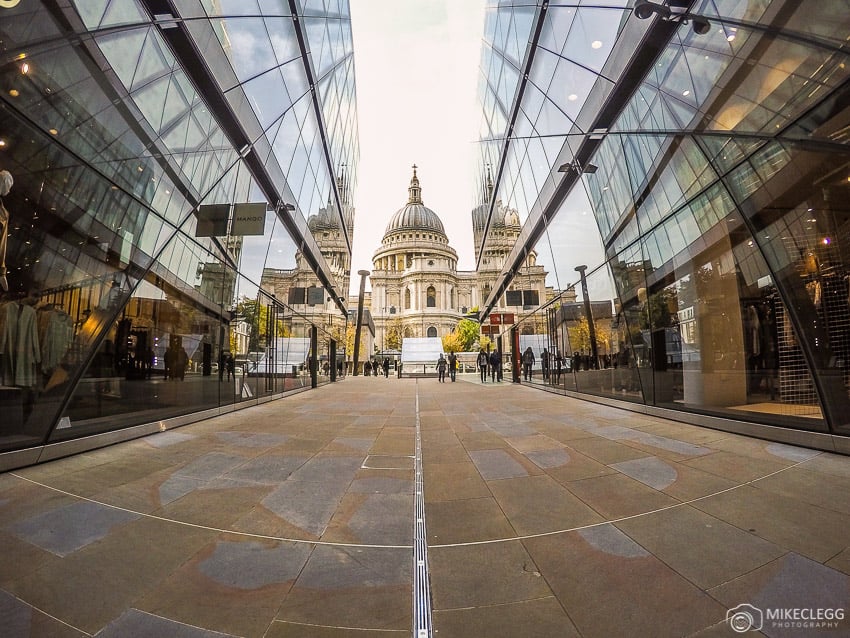 4. Leadenhall Market
This picturesque interior and marketplace is in London's financial district, hence why it looks a bit posh. When taking photographs try using a wide-angle lens so that you capture as much as possible.
Best time for pics: Day
Cost: Free
Location: Leadenhall Market, Gracechurch St, London EC3V 1LT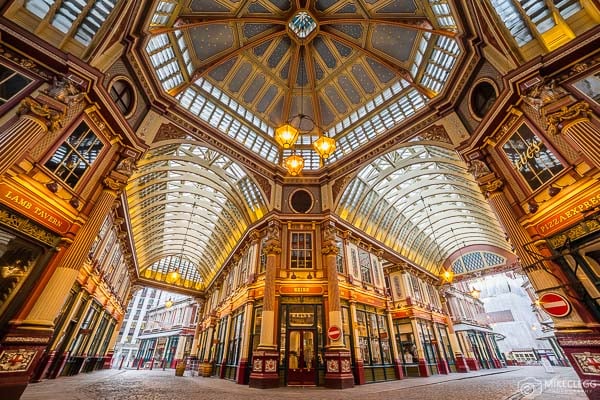 5. Tower Bridge
Some people thought I was being brave when I posted shots like below on Instagram. But this composition is actually taken from an island in the middle of the road (so it's totally safe). Try using a tripod, long exposure and taking pictures at night for a similar result to below.
Best time for pics: Blue hour/night
Cost: Free
Location: Link on Google Maps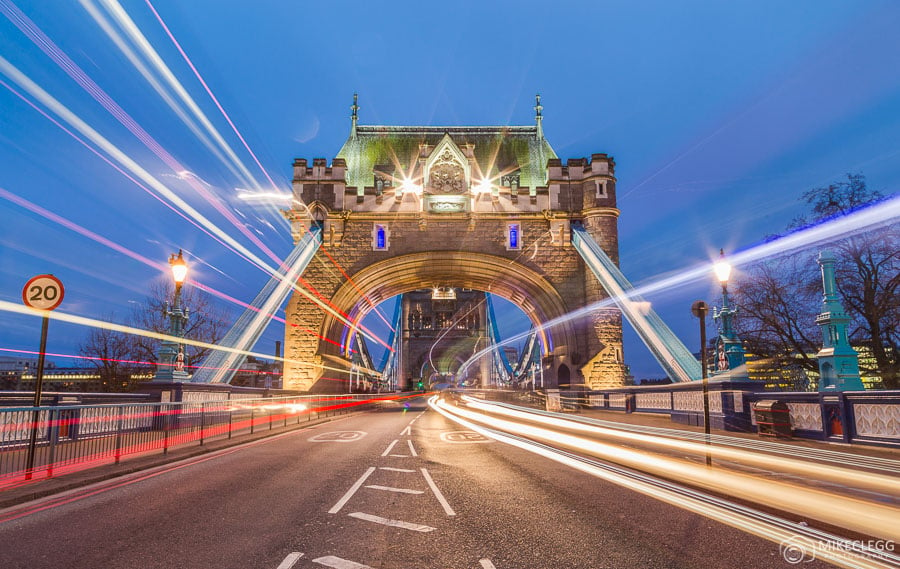 CONTINUE READING BELOW
6. The London Eye
At night the London Eye is great to photograph and from the angle below you may run into other Instagram photographers. The London Eye is often moving (but slowly), so if you want an image showing motion then use a long exposure. If you want to have detail in the wheel and pods, then use a faster shutter speed, increase your ISO or wait for it to pause (or close).
Although we prefer the night view, it's worth noting that The London Eye does also look good during the day and a nice daytime angle is from Jubille Park and Garden which is right next to it.
Best time for pics: Blue-hour-Night
Cost: Free
Location: London Eye, Lambeth, London SE1 7PB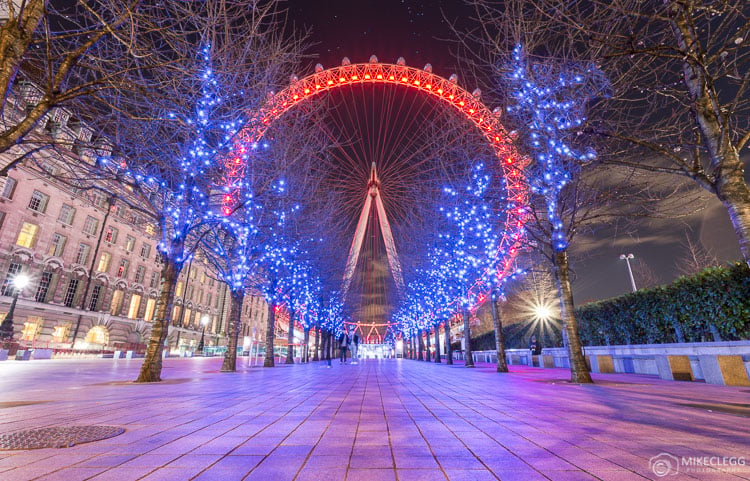 7. Heals of London
Heals of London is a furniture shop along Tottenham Court Road. Towards the back of the store is this staircase which is one of the prettiest interior photo spots in London. I believe people often go into the store just to take pictures of this staircase. It's also a great place to buy items as well of course and we personally have a few items from there ourselves.
Best time for pics: During opening hours
Cost: Free
Location: 196 Tottenham Court Rd, Fitzrovia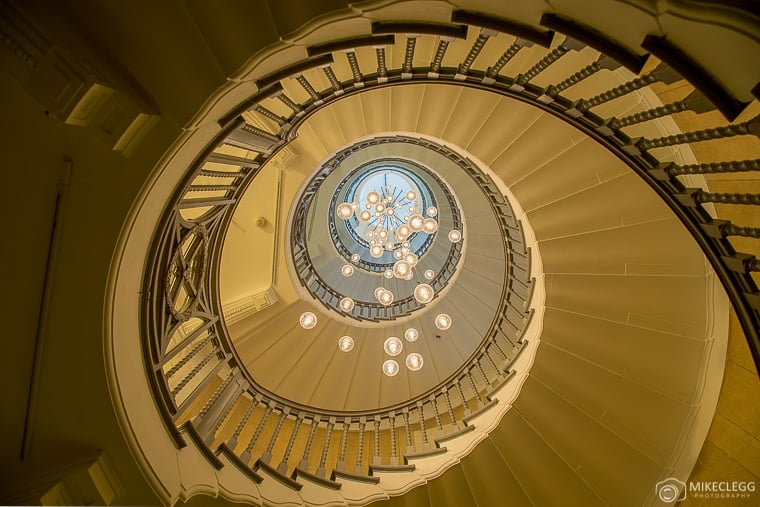 8. Natural History Museum
The Natural History Museum has incredible architecture, in particular in the main hall. Try using a wide-angle lens or a GoPro to get a picture like below. Also be sure to enjoy this museum during your visit and see some of its exhibitions. Annually in the Autumn you'll find the the Wildlife Photography of the Year exhibition and some of the photographs you'll see are quite simply mindblowing.
Best time for pics: Day
Cost: Free entry – ticketed for exhibitions
Location: Natural History Museum, Cromwell Rd, Kensington, London SW7 5BD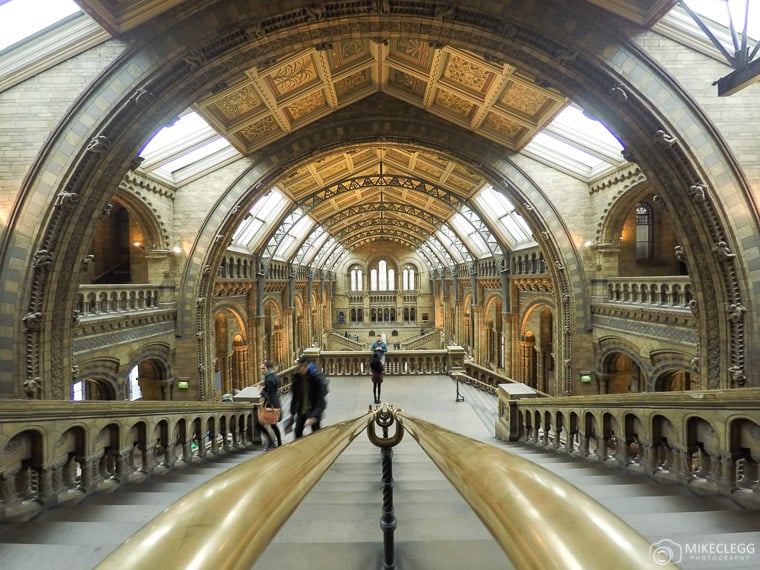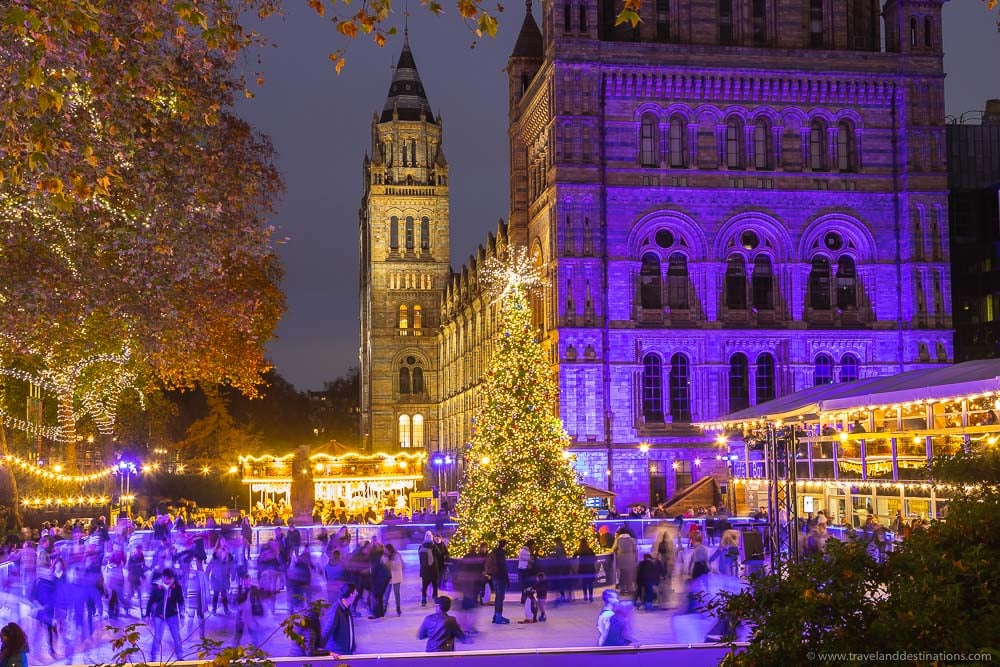 9. Notting Hill and Portobello Road
There are lots of colourful streets around Notting Hill which make for wonderful pictures. Your best bet is to get off at Notting Hill Gate station and then walk towards (and along) Portobello Road. Another aesthetic place in London is on the other side of the city around Hillgate Place and Campden Hill Road. Even if you don't take photographs it's still lovely walking around this area.
Best time for pics: Day
Cost: Free
Location: Portobello Road and Hillgate Place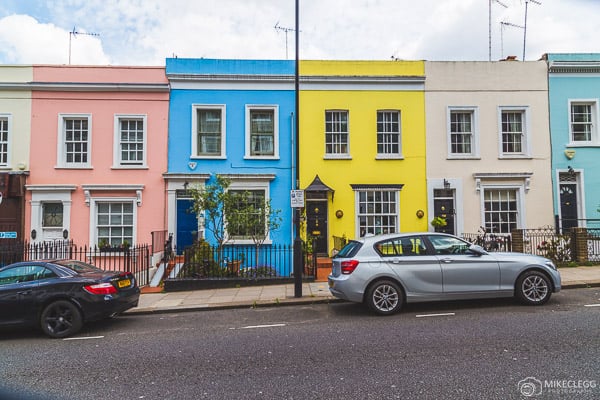 Tour Idea
10. The Churchhill Arms
Probably the most decorated pub in London, this pub makes for an awesome photo (or drink). As it's located close to Notting Hill Gate you could pop here before, or after, exploring the other areas. For an image such as below it's best to visit in the warmer months when it has all the plants and flowers seen below.
Best time for pics: Day
Cost: Free
Location: 119 Kensington Church St, Kensington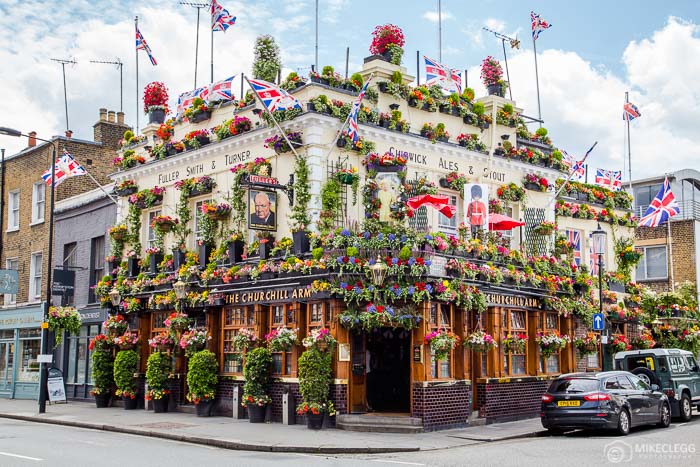 11. The Kings Cross light tunnel
Kings Cross has this awesome multicoloured light tunnel and is very Instagrammable. You'll find this on the underground walkways that connect St Pancras to Kings Cross station. The interior of the waiting hall is also good to photograph as it has an amazing ceiling.
Best time for pics: Anytime
Cost: Free
Location: Google maps link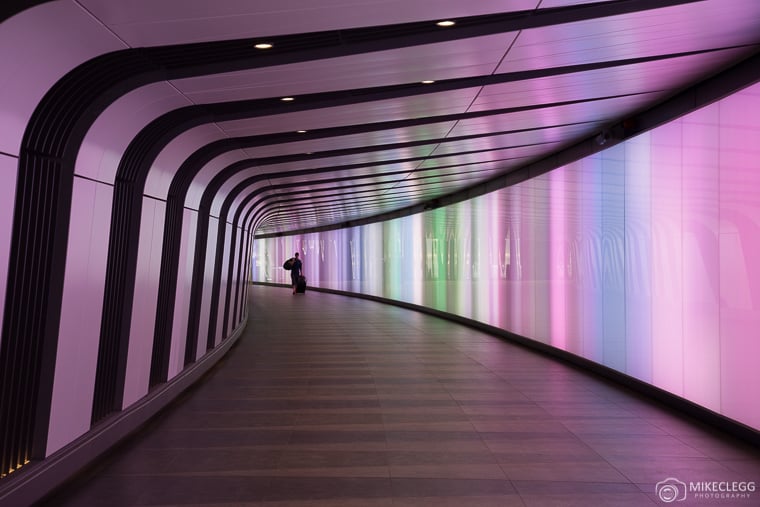 CONTINUE READING BELOW
12. Queen's House
This cute little museum in Greenwich is perfect for those that love architecture and spiral staircases. These kind of shots are often popular on Instagram. Try over-exposing your image slightly for a brighter photograph. To do this on a phone click on the darkest point on the screen. This sometimes makes the software change the exposure and brighten the picture.
Best time for pics: Day
Cost: Ticketed
Location: Queen's House, Romney Rd, Greenwich, London SE10 9NF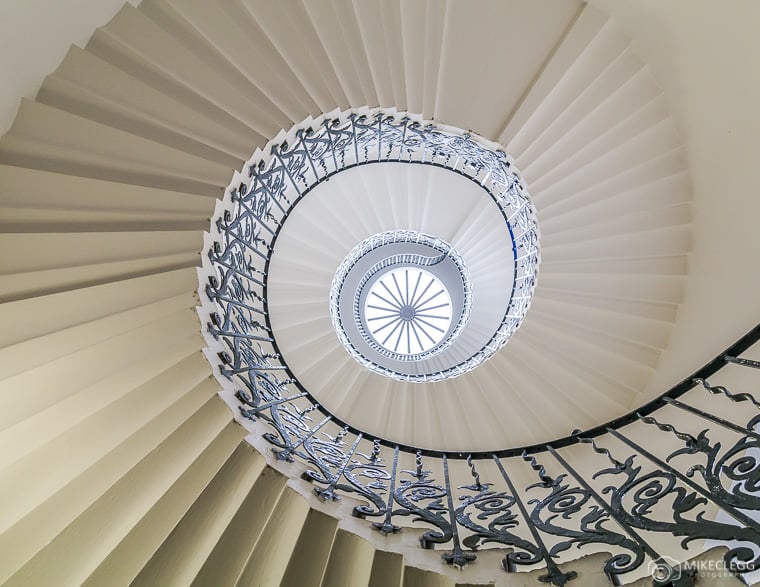 13. Painted Gallery
Close to the Queens House is the Painted Gallery in the Old Royal Navy College. The ceiling has impressive paintings on the ceiling and the entire room is just stunning. In the main room keep an eye out for reflections to use in your photographs such as below.
Best time for pics: Day
Cost: Ticketed
Location: Painted Gallery, King William Walk, London, Greenwich SE10 9NN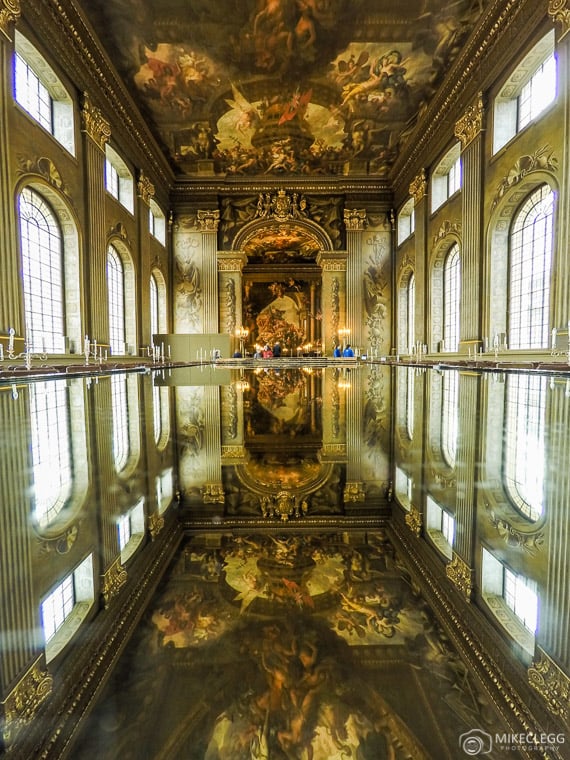 14. Girl and Dolphin Statue and Tower Bridge
On the north side of the River Thames close to The Tower Hotel is where you will find this stunning statue created by artist David Wynne. The statue and Tower Bridge are very photogenic and this is one of my favourite angles to take photographs of Tower Bridge. Visit this Instagrammable place around sunset for great light and into the blue hour.
Best time for pics: Sunset-night
Cost: Free
Location: Link on Google Maps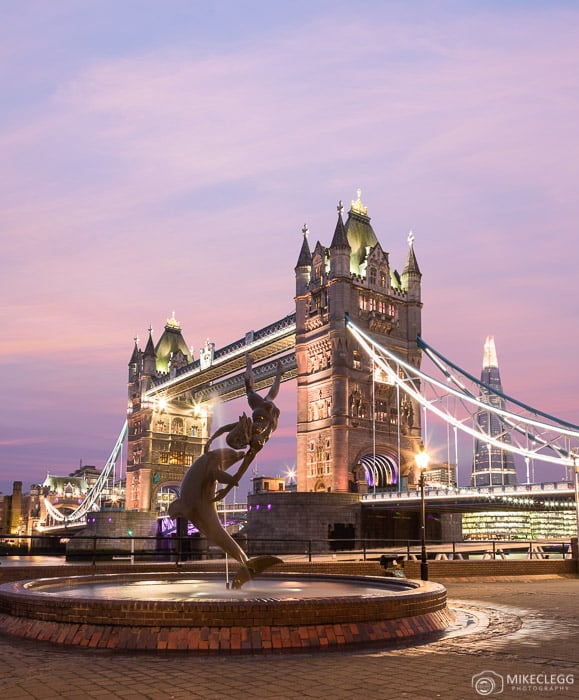 15. Houses of Parliament/Big Ben
The Houses of Parliament (Palace of Westminster) is, of course, one of the most popular buildings to photograph for Instagram. For some of the best spots go directly opposite and take pictures in this little archway and also the steps above that lead from Westminster Bridge down to the walkway.
The best bet for good photographs is to get here around sunset for the golden hour as the sun often sets behind the building. This spot in London is also a popular photoshoot location and it is common to see wedding photographers here with brides and grooms.
Best time for pics: Anytime
Cost: Free
Location: Link on Google Maps