1. Bratwurst (Grilled Sausage)
Think about traditional German food, and you probably think about bratwurst. Bratwurst is sausages made with ground pork, veal, or beef. The sausages are then pan-fried or roasted until they are crispy.
You can serve bratwurst with mustard on top. Many Germans like to eat their sausages at pubs with sauerkraut or potato salad. They are also popular as fast food.
2. Schnitzel (Breaded Cutlet)
A schnitzel is a thin piece of meat pounded into a flat slice. You then bread the meat before frying it. You can eat deep-fried or pan-fried schnitzel. In Germany, they use mainly pork as the meat of choice.
Wiener Schnitzel, which is more of an Austrian dish, is probably the most popular here in North America. This is a cutlet layered with ham and cheese and then breaded and pan-fried. A traditional Weiner Schnitzel is made with veal, but you can substitute whatever meat you like. Many Germans like to eat schnitzel with fried potatoes and cream sauces. This is a great recipe for Weiner Schnitzel if you want to make it at home.
3. Brezeln (Pretzel)
A Brezel (or Brezeln) is better known in English as a pretzel. It is a pastry made of wheat dough that you then tie into a knot.
4. Braised Cabbage
Braised cabbage is a very popular German food. German food recipes differ, though most combine cabbage with broth and vegetables for added flavor.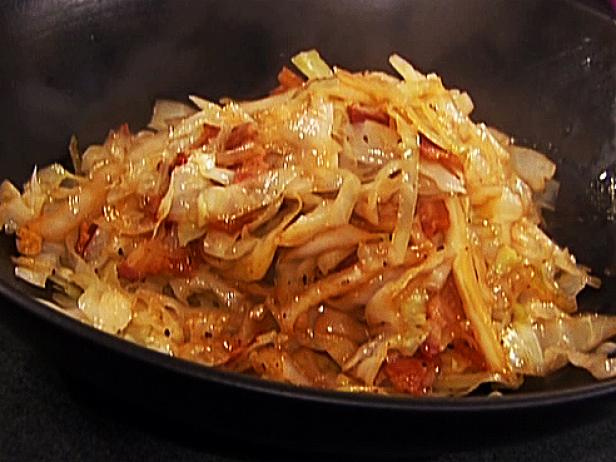 Braised cabbage can be something of an acquired taste. Some recipes call for apple cider vinegar, which can be overpowering. But it complements the smoky and savory flavor of bratwurst very well. You can find a quick and easy recipe for Braised Cabbage here.
5. Labskaus
Labskaus is a beef dish. German sailors in the 18th century developed it, and it became popular amongst many people on land. Try making your own Labskaus at home with this easy-to-follow recipe.
It is a combination of salted beef, onions, abd potatoes. These ingredients are mashed together and combined with gherkins and other ingredients like pickled beets. It resembles a pink mash, yet it is a good dish when you have leftover ingredients you want to combine together.
6. German Potato Salad
The most infamous German ingredient is potatoes. There are many German potato varieties because southern Germany is an area conducive to potato cultivation. Many Bavarians have come up with a range of recipes, using everything they have at their disposal.
Unlike other forms of potato salad, German potato salad relies on bacon, sugar, and white vinegar. This adds more salt and fat to the dish, without it being too caloric.
Potato salad complements a number of German main dishes. If you want an Americanized German dish, you can find American-style German potato salad recipes online.
7. Bratkartoffeln (Fried Potatoes)
Bratkartoffeln is also known as German fries. The term literally means, "fried potatoes," and it is a good recipe for less-experienced chefs.
You combine chopped potatoes with bacon and onion and fry everything together in butter until crispy. Some people like to eat their potatoes with fried eggs or a light salad.
8. Kartoffelknödel (Potato Dumplings)
Kartoffelknödel is the German term for potato dumplings. Potatoes serve as the base of the dumplings, but you can include any seasoning and croutons you like.
The dumplings are then boiled. You can then put additional croutons on top, or you can eat your dumplings with your favorite sauce.
9. Reibekuchen (Potato Pancake)
Reibekuchen is German potato patties or pancakes. If you have had latkes before, you will find Reibekuchen very similar to them.
You can grate potatoes and then combine them with eggs and flour. Once you form the mixture into patties, you can pan-fry them until crispy. Reibekuchen works as a side dish, and you can have them with apple sauce or minced meat.
10. Maultaschen (Meat Dumplings)
If you want dumplings without potatoes in them, you can eat maultaschen. They come from Swabia, a region of southwestern Germany that borders Austria and Switzerland. The area was a common stop for Italian merchants, meaning that Swabian cuisine has some Italian influences.
Maultaschen are small sheets of pasta filled with various ingredients. Some people like to include minced meat, while others put in smoked meat, including sausages. You can also add onions and herbs to your dumplings.
Some people prepare their dumplings by simmering them in broth. But you can also fry them in butter. Braised cabbage is a common side dish with them.
11. Sauerkraut Soup
Sauerkraut soup is a good option for people who like sauerkraut but find certain recipes too strong. The soup does have sauerkraut at its core, but it also includes bacon, vegetables, and white beans. The broth is chicken-based, which you can make yourself if you have time.
The soup is salty yet nourishing. You can have it with crusty bread or fried potatoes.
12. Rouladen (Beef Rolls)
You may be familiar with roulade, which is rolled meat that is then braised. Rouladen is the German variant of the dish, though it is also popular in Poland and the Czech Republic.
Like schnitzel, it involves thin and wide pieces of meat. You can then cover the meat pieces with mustard and roll them up before stuffing them with bacon and other fillings.
The secret to rouladen is gravy. You can prepare a beef or vegetable gravy as you fry your meat rolls and then pour the gravy over top. Rouladen are savory and filling, and they work well with mashed potatoes.
13. Spargel (Asparagus)
Spargel is German white asparagus. It is similar to green asparagus, though it has a milder flavor. You can boil your asparagus whole inside water and serve it plain. You can also fry or roast your asparagus with butter and various seasonings.
14. Rollmops (Pickeled Herring Rolls)
Many early Germans relied on pickled fish as a source of protein. Many of them commemorated Lent by forgoing pork and beef, meaning they needed fish for food.
Rollmops are pickled herring pieces that chefs roll into cylinders. Fillings are then stuffed inside. Some Germans like to stuff their herring with pickles and tomatoes in order to create salty flavors.
15. Bauernbrot (Farmers Bread)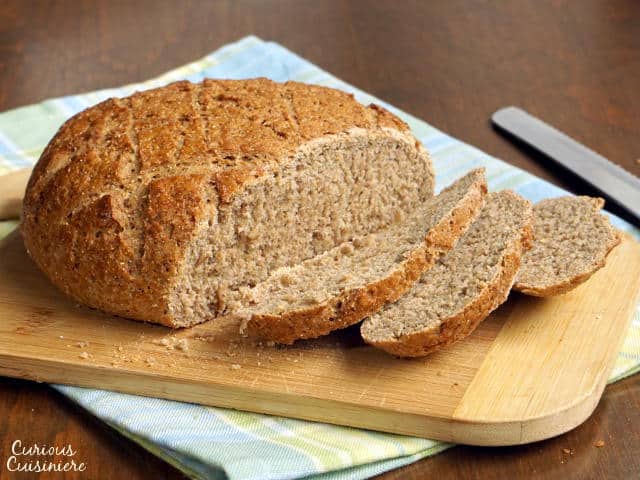 Baurenbrot is German farmer's bread. As the name suggests, it is a hearty bread that German farmers used to bake so they could work for long periods of time.
The bread is made with rye flour and German bread spice. Bread spice is a mix of spices, including caraway and fennel. It adds a sweet touch without making the bread seem sugary.
16. Vollkornbrot (Brown Bread)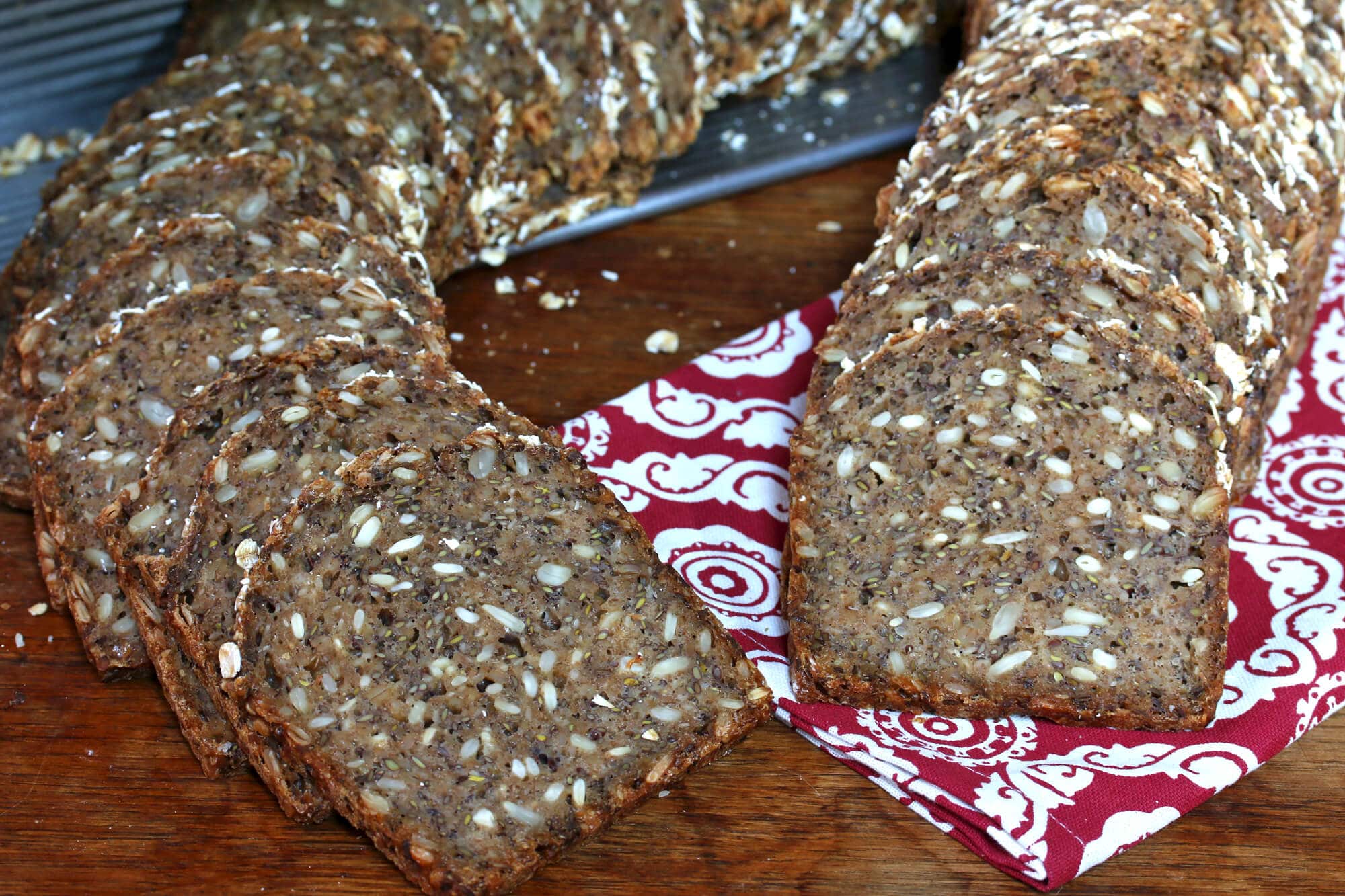 It is a hearty and lightly sweet bread that is good for sandwiches and toast. For an easy breakfast, you can take a couple of slices and put a jam over them.
17. Spaghettieis (Ice Cream)
Spaghettieis is a modern German dessert that is becoming popular in many European cities. As the name implies, it resembles Italian spaghetti.
You can make it by pressing vanilla ice cream through a potato ricer to create ice cream noodles. You can then put a strawberry sauce over top, making the dish resemble pasta and tomato sauce.
18. Stollen (Fruit Cake)
Stollen is an authentic German Christmas food. It dates back to the 16th century, and it is most popular in Dresden.  It is a flatbread with dried and candied fruits. You can also add chopped or whole nuts and then top the bread off with powdered sugar.
19. Black Forest Gateau
Black Forest gateau comes from the Black Forest area in southwestern Germany. Yet its name does not refer to the forest, but to the popular liquors there.
The gateau is a cake that contains a few layers of chocolate sponge cake and whipped cream. Kirschwasser, a liquor made from tart cherries, is poured over the top. It is a succulent dessert that combines chocolate and fruit flavors.
20. Apfelstrudel (Apple Struedel)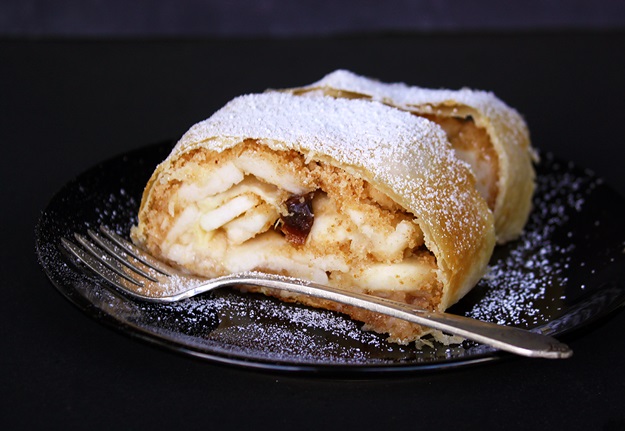 Strudel is what many people think of when they hear about German desserts. The word, "strudel," means "swirl" or "whirlpool."
Apfelstrudel is a swirled pastry with an apple filling. It is buttery, light, and sweet. You can eat your strudel with whipped cream or vanilla ice cream, though many people enjoy it on its own.
The Best Of German Food
German food is a phenomenon. Most people have tried out savory bratwurst, schnitzel, and pretzels. But you can also sample braised cabbage and labskaus.
It is true that German cuisine offers a number of potato dishes. German potato salad and fried potato patties are popular options. But you can sample many meat and vegetable dishes. When you want a dessert, you can make a stollen or apple strudel. If you want an authentic German food experience, you must head to Germany.